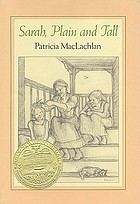 Bibliographic Information: MacLachlan, P. (1985). Sarah, plain and tall. New York: Harper & Row.
Brief Annotation: Caleb and Annas mom died when Caleb was born, they have been growing up with out their mother and Papa decides the girls need a mother. He posts an ad in a newspaper for a mail-order bride to come live with them at their home in the prairie. Sarah responds to the ad and decides to move in with them, will she end up staying or no?
Genre: Fiction
Grade Level: 3-5
Reader who will like this: Readers who will enjoy this are those who like stories about family and friendship.
Rating/Response: 5- This is a great book about family and friendship and the hardships of life.
One question you would ask before a read aloud: Why do you think Caleb and Anna's father put an ad on the newspaper for a new bride?
Reading Strategy: Free Choice (Chapter)
Rationale for Strategy: I chose this book because it is a great book that can be used in a unit about family and it is a really fun and moving story.
Posted by: Yesenia Corral