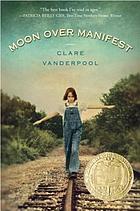 Bibliographical Information: Vanderpool, C., Sheatsley, V., & Delacorte Press. (2010). Moon over Manifest. New York: Delacorte Press.
Brief Annotation: In the summer of 1936 Abiline Tucker is sent to Manifest, Kansas to love with an old friend of her fathers. Ablines' father is a drifter and he sends Abiline to Manifest the place where he grew up. Abiline goes through many adventures in hopes to find details about her fathers past.
Genre: Fiction
Grade Level: 4-6
Readers who will like this: Readers who like to read about history, and like to read about mystery and adventure would really enjoy reading this book.
Rating/Response: 5 This is a great book with great descriptions that allow students to create a movie in their head as they read.
One question you would ask before a read aloud: What would you do if you knew very little about your parents?
Reading Strategy: Free Choice
Rationale for Strategy: I chose this book as my free choice because it is book that can be used for visualizing, social studies and many more reading strategies, it is a great fun read !
Posted by: Yesenia Corral