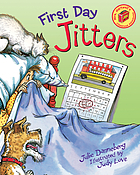 Bibliographic Information: Danneberg, J., & Love, J. D. F. (2000). First day jitters. Watertown, MA: Whispering Coyote.
Brief Annotation: Teacher Sarah is scared of starting her first day of school as a new teacher at a new school, what is going to happen?
Genre: Fiction
Grade Level: 1-3
Reader who will like this: Readers who will enjoy this are those who like funny stories, and stories about school.
Rating/Response: 5- This is a great book that offers a view of a teachers perspective on the first day of school.
One question you would ask before a read aloud: How do you think teachers feel on their first day of school?
Reading Strategy: Free Choice (Picture)
Rationale for Strategy: I think this would be a great book to read to students when they feel scared about starting school, letting them know that teachers can be scared too!
Posted by: Yesenia Corral